It has been too long! I thought with MLK Day being last Monday I should probably skip Man Candy out of respect. This week we are back in full force with a real deal lesbian as our lesbian lick this week! But first, Man Candy!


I first met this fellow when he played Eric Brady on Days of our Lives. Meet Jensen Ackles!
He was a guest on Dawson's Creek back in the day too.

Love his smile.

This is just goofy which makes him more sexy to me.

I like that he isn't scared to take of his shirt.

This is the kind of man I am looking for! One who reads with his pants half off!

He is a stage actor as well which is impressive to me.


Young and Restless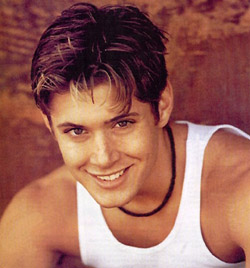 So serious!

Mmmmmmmmmmmmm....

He likes a serious pose.

This is just hot.

Love a man with a gun!

Looks like he's going to eat somebody up. Pick me, pick me!

Dirty, grrrr.

Sweet sexy


___________________________________________________________________________________

Ok, now on to our real deal lesbian. She is one of my favorites. Her and her wife actually. My sister is going to love this. Our Lesbian Lick today is Amanda Lee Rogers aka, Portia De Rossi!


I first saw her on Ally McBeal. I will never forget the first time she let her gorgeous blond hair down and wowed the world.

She was born in Australia.

As a child she worked as a print and TV model.
This is why she traded in Amanda Lee Rogers: "When I was 15, I changed my name legally. In retrospect, I think it was largely due to my struggle about being gay. Everything just didn't fit, and I was trying to find things I could identify myself with, and it started with my name. I picked Portia because I was a Shakespeare fan (Portia is the character in The Merchant of Venice who comes to the rescue of Antonio and Bassanio in their time of need). De Rossi because I was Australian and I thought that an exotic Italian name would somehow suit me more than Amanda Rogers. When you live in Australia, Europe is so far away and so fascinating, so stylish and cultured and sophisticated."

She played a memorable lesbian in Nip Tuck as a guest roll. I mean the woman is just beautiful!

With her awesome wife, Ellen, on their wedding day. Look how happy they are! Do we really want to take this right from people?

She was named number 69 in Stuff's 100 Sexiest Women, 31 in Femme Fatales Sexiest Women of 2003 list, 24 in Maxim's 100 Sexiest Women List in 2004, and in late 2006, the magazine Blender listed her as one of the hottest women of film and TV. I cannot disagree.

She was married to a man from 1996-1999 as part of a plan to get a greencard.

Even her profile is gorgeous!

She is vegan. That must explain the perfect complexion.

She admittedly struggled with anorexia for 4 years while filming Ally McBeal.

Those early modeling years paid off.

Just a wee bebe!

She married her soul mate in 2008 with just 19 guests present. This is one of my favorite pics!