The original Makaveli: Tupac Amaru Shakur (June 16, 1971 – September 13, 1996)
He got his start as a back-up dancer for Digital Undergroun
Growing up, his family had strong ties to the Black Panthers
(Pac's God Father was a high ranking Panther)
Jada Pinkett Smith was one of Pac's very best friends until the end.
His poem entitled "Jada" was written for her.

Thug Life was his motto. So much that he tattooed it on his chest.
Breakin' it down and working up a sweat!
He was also a very deep thinker.
He wrote and rapped some of the most honest lyrics of our time.
He even dated Madonna and she wanted to have his baby! (no lie, look it up)
This bubble picture speaks for itself.
Serious Pac.
I don't know why but I find him smoking incredibly sexy.
Those eyes just captivate me.
My favoite picture of him, all time. I have a t-shirt with this image on it.
Representing the Lou!
He had some trouble with the law too. He was convicted of sexual assault in 1994 stemming from a hotel party gone wild back in 1993. He denied the charges until his death.
In November 1994, he was shot 5 times and robbed in the lobby of a recording studio. He was hit twice in the head, twice in the groin and once through the arm and thigh. He survived but suspected fellow rappers of carrying out the attack. This was the start of the East Coast/West Coast conflict that continued until Pac's death.
While serving time for the sexual assault conviction, Pac released Me Against the World and became the only artist ever to have a number 1 album while serving a prison sentence. In total he served 11 months of a 1 and a half year sentence.
His final performance was July 4, 1996. On September 7th, 1996 Tupac was gunned down while leaving one night club and heading to another in a car driven by Suge Knight. He survived 6 days on a ventilator and died on September 13th of respitory failure.
This photo was taken just moments before Tupac was gunned down. After his death some of his ashes were later mixd with Marijuana and smoked by members of Outlawz.
This is my favorite Tupac quote:
Just this year Pac was recognized by The Vatican when they released an official MySpace playlist that included
Tupac's Changes (the explicit version
).
-----------------------------------------------------------------------------------

Our lesbian lick this week has made this blog before, not for her beauty but for controversy surrounding her last relationship. I give you Robyn Rihanna Fenty.
She hails from Barbados but moved to the US at 16 years old to pursue her dream of a recording career.
She met a record producer who was vacationing with his wife when she was 15 and was encouraged to move to the US to pursue her career. She recorded demos at night and on the weekends so it would not affect her schooling.
Her demo fell into the hands of Def Jam records and she was invited to audition for Jay-Z. The rest, as they say, is history.
She is an amazing talent and her look is all her own.
I loved her immediately and still think she is one of the sexiest women in music today.
I mean, really...
In 2007 she was ranked 8th in Maxim's Hot 100
In 2008 she was #15 on that same list.
Entertainment Weekley named her the "Diva of the Year" in 2008
And in 2009 Maxim awarded her the 8th most sexy woman on Earth.
2009 has been the busiest year yet for Rihanna. Coming off of the success of Good Girl Gone Bad she was slated to perform in February at the Grammy Awards but an altercation with her then-boyfriend, Chris Brown, forced her to cancel.
She has gotten a lot of critism for returning to the relationship breifly but admits that although the love for him was strong the love for herself was stonger and more important.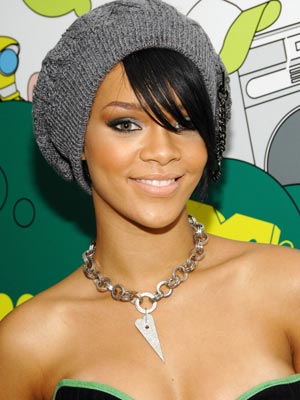 She has become a spokesperson for anti violence.