This week's Man Candy Monday is a big gay tribute. The people I have chosen this week were 2 of the most influential singers/songwriters of the year AND both happened to be huge influences in the gay community as well.
This week I give you Adam Mitchell Lambert!
He won American Idol in May of this year.
Then he made history when he (insert Gay gasp here) made out with a male guitarist on stage!
He pushes the envelope.
And within 6 months of fame, came out as a gay man at his very young age.
Not that we needed an anouncement.
I love that he performs on the edge.
And has his own style.
He doesn't care what critics say.
He is who he is and makes no excuses for that.
I couldn't pass up this gem.
AND he's hot!
Even in drag...
Or simply dressed as a rockstar.
He seems very genuine.
I love that he makes no apologies for who he is or what he does.
Clearly he has a sense of humor.
And he cleans up nicely.
But mostly he's a diva.
And I love that.
It takes balls sometimes to step outside of the normal and be yourself.
Or a more feminine version of yourself.
But still be goofy and fun.
Amist all of the chaos of life.
My choice for lovely lady lesbian licks this week has so many of those same qualities. She is not affraid to be herself and seems to thrive on being different.
I give you Stefani Joanne Angelina Germanotta or as we all affectionately refer to her LADY GAGA!
Like our man candy, this little lady is young at just 23 years old.
Her success came as a songwriter at first until Akon discovered her vocal talents.
Did I mention that she has a style all her own?
She reminds me of Madonna in the early years.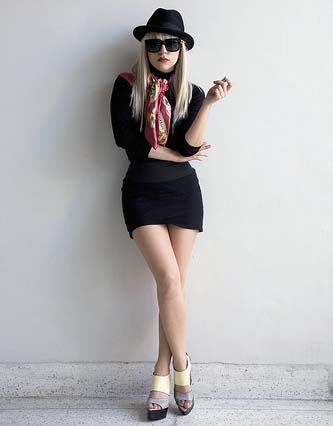 And sooooo sexy!
A close-up on that.
Livin' on the edge...
She started out doing burlesque shows until her music career took off.
Oh, and don't forget she's a gay icon "In the music industry there's still a tremendous amount of accommodation of homophobia. So I'm taking a stand," she commented
"The turning point for me was the gay community. I've got so many gay fans and they're so loyal to me and they really lifted me up. They'll always stand by me and I'll always stand by them. It's not an easy thing to create a fanbase."
When presented with an award last year she ended her acceptance speech with: "This is for God and the gays".
She is one of the top selling new artists of all time.
Her song Poker Face talks about her bisexuality and the face she puts on for the men who think she is as into them as women.