Where do I begin? This has been a horrible summer of death. Today I am dedicating Way Back Wednesday to Mr. Patrick Swayze, my faux-boyfriend of the 1980's.
He gave new meaning to sexy and sultry.
One of my favorite Roadhouse scenes...
The Outsiders...damn, look at the talent here; Tom Cruise, Rob Lowe, C. Thomas Howell, Matt Dillon, Ralph Macchio, Emilio Estevez and Patrick Swayze.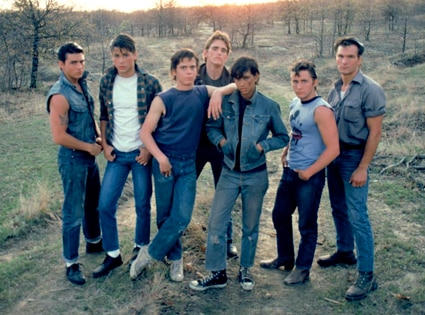 Love a good shirtless shot!
And another...
This is my favorite scene from Ghost. I still have the tissue from my first viewing of Ghost in theatres, circa 1990.
I really liked this sketch.
I love me a bad boy and this look has Billy Badass written all over it.
Frosted femullet from Point Break and still damn hot.
In color...
This is so baby faced, I had to include it.
We actually thought this hair was sexy at the time.
The equestrian
The young dancer...
Just young...
My favorite Dirty Dancing shot.
And of course, To Wong Foo Thanks for Everything, Julie Newmar. He was a truly beautiful woman. "You know pumpkins...sometimes it just takes a fairy." Patrick Swayze aka Vida Boheme.
Point Break
It is hard to believe he was 57 years old. That makes my girlhood crush of the late 80's and early 90's pretty sick. He is just 4 short years younger than my dad. Ok, now that I am over that, I feel like the world lost a very precious soul this week. RIP, Mr. Swayze. Johnny Castle will keep you alive for hundreds of years to come.

"I have a great deal of faith in faith; if you believe something strongly enough, it becomes true for you. I would like to believe that my father is right here with me in this room and that he`s my guardian angel, that there`s life after death -- because if there isn`t, why are we here? I don`t believe that just flesh and bones can contain from the point of view of physics this very real recorded energy inside of us. Whether it`s true or not, we need to believe it." Patrick Swayze